This year, Nurses Week concludes with Give Aways. May 12 is the anniversary of the birth of Florence Nightingale (1820-1910) and it marks the conclusion of Nurses Week every year. May 12 is also International Nurses Day. I hope you have done something special for yourself to honor not only YOU but all of your fellow nurses. Employers are never the best at planning events. Non-nurses never really get it and they are usually the ones delegated to do something if at all. It's simply not feasible to offer significant raises, or extra days off or all-expenses vacations which we are all deserving. It's always up to us to reap our rewards from this field in which there are plenty to find.It is necessary to help keep us centered and replenished in order to keep giving. 
Take a moment to honor YOU!
National Nurses March May 12,2022
Nurses are marching on Washington DC today to make a difference for ALL nurses and patients. National Nurses March is meticulously exploring other bills and working with legislation on matters of dire importance to elevate the voices of nurses, keep them safe, and to help promote realistic and sustainable change within the nursing. One goal is to bring awareness to 2 major pieces of legislation in Congress: HR 3165/S1567 to require National Staffing Standards for Hospitals and HR 1195 for Prevention of Workplace Violence for Healthcare Workers and Social Services. profession nationwide. Share your appreciation on all of your social media to help increase awareness of all that nurses do and how to support nurses in their quest for better workplaces and safer quality patient care.
Nurses Week Give Aways
My intention was to get this contest started yesterday, bu Mother Nature had different ideas. Winds in CA play havoc with our lives in many ways! Internet service was out much of the day and in particular the time I had scheduled to do this. I will extend the original deadline to enter through Monday, May 16th.
TO ENTER

1) send Email to The Nursing Site (click the link)

2) SUBJECT LINE: Nurses Week Give Away

3) BODY of the MESSAGE: List your TOP 3 prizes in order of preference

4) INCLUDE your NAME and MAILING ADDRESS

I will randomly draw names and assign gifts. I will do my best to fulfill your wish list. If you're a winner, either I or a representative of the company donating the prize will contact you regarding delivery of your prize.
PRIZES: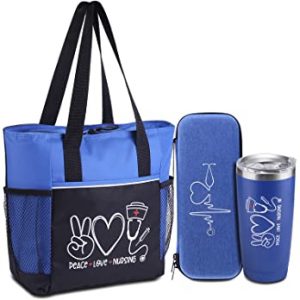 The Nurses Kit contains a zippered insulated bag, an insulated stainless steel cup, and a hard case for your stethoscope. It can also hold scissors, pens, etc., to keep you organized and safe from those who would borrow and never return. The cup is very nice. I take it to baseball practice with my grandson, and even on very warm days it keeps my drink cold. The bag is great for taking lunch to work, to use as a tote bag, or for storing items in your trunk if you're a home health nurse. I have 5 kits available to give away.
These kits are available to purchase on Amazon.
GummiShot Energy Gummies are a plant-based source for extra caffeine when you don't have time to sit and drink a cup of coffee or other highly caffeinated drink. The GummiShot contains 75 mg of caffeine per gummy vs an average cup of coffee that contains 63 mg. They come in 3 flavors: elderberry, Valencia orange and tropical.  Purchase  GummiShot here. I have 2 boxes available to give away.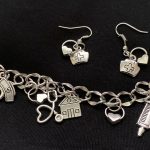 Next I have an item that will be available in my Etsy store soon. It's a charm bracelet and earring set with nurse related charms. The bracelet is a standard  7 inches long. There is 1 item available.
The next 2 items are also available though my daughter's resin art website. See the nurse gifts page.
The Nurse Coaster measures 2.5 inches in diameter and can double as a small trinket tray for rings and earrings, keys, small office supplies.
I have 1 coaster to give away.
The final give away item is a nurse key ring. Resin epoxy art filled with nurse charms. One in blue and the other is a pale pink.
So that's what I have to offer. Please send in your entries ASAP! You may enter up to 3 times to increase your odds. Note that some items are affiliate inks and I may receive a small compensation that helps me grow and provide this blog. Thank you! Happy Nurses Week!