Since the outbreak of COVID-19, the world has realized just how essential nurses are. Not only do we rely on them to care for us and tend to our everyday health needs, but we also count on them during times of crisis. Even when the world felt like it was falling apart, nurses were there working tirelessly to hold it together. They've been hailed as healthcare heroes as they've worked on the front lines amid an unprecedented pandemic. Nurses are extraordinary people!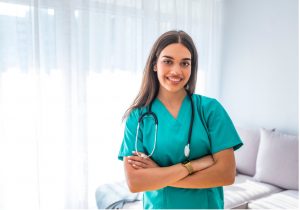 Source: Dragana Gordic/Shutterstock.com
If you have chosen to become a nurse, you are on your way to a rewarding career that will allow you to help people every single day. Before you can start treating patients, though, you need to make it through nursing school. Thanks to the stress (and lack of a paycheck), nursing school is often even more challenging than working on the front lines. Fortunately, arming yourself with the right nursing school supplies and tools makes a huge difference! From stylish modern scrubs with lots of pocket space to the right tech and gadgets, here are some nursing school essentials you'll definitely want to have.
Comfortable and Stylish Scrubs
When shopping for scrubs, look for brands that combine style and function. You need workwear that is comfortable and which will keep up with you on even your longest days. It's also wise to look for scrubs and scrub jackets for women with plenty of pockets. As a student (and eventually a working nurse), you will be carrying a lot of supplies with you. From flashcards to tongue depressors, you'll need space to store all of your essentials. While you might be short on cash as a nursing student, buying high-quality scrubs is a worthwhile investment that will make surviving nursing school a lot easier.
Look for scrubs made from fabric with antimicrobial and moisture-wicking properties, and be sure to choose styles that move with you. Few things are worse than being stuck in hot, sweaty scrubs that restrict your movement.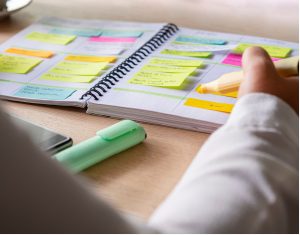 Source: OlgaPS/Shutterstock.com
Note-Taking Supplies
No matter how good your memory is, there's no way you'll be able to remember everything you learn in nursing school. Instead, you'll need to take detailed and organized notes that you can refer back to as needed. Whether you are a note-taking pro or you've never been particularly good at this essential study task, you'll need several note-taking supplies while you're a nursing student.
Color coding your notes is the best way to keep everything organized. It also helps you retain information. Before you head off to nursing school, stock up on multi-colored pens and highlighters, sticky notes and arrows, and notebooks. You'll need both large notebooks and small ones you can tuck in your pocket and carry with you. You may also want to pick up a good voice recorder — especially if you have trouble keeping up and taking detailed notes during lectures. With a recorder, you can relisten to lessons and take better notes later.
Gadgets and Tech
A good laptop is a must-have for any student. Even if you are not taking classes online, you'll likely need to use a laptop in class. Whether you prefer a PC or Mac, spend some time researching to find a computer that fits your needs. A laptop is a big purchase, but this is definitely a splurge-worthy investment.
iPads are great for students, too. They're super portable and packed with features that make student life more manageable. Whether you use it to take notes, plan your days, or look up information, you'll likely use your iPad daily.
When it's time to study, noise-canceling headphones are a must. Whether you prefer wireless earbuds or traditional headphones that fit over your ears, there are styles to suit any preference. They do a great job of keeping distractions at a minimum while you're studying, and they can make it easier to hear what's going on during Zoom meetings and online classes. Like a good laptop, high-quality noise-canceling headphones or earbuds are a solid investment.
Some other tech gear you'll want to bring includes:
Wireless mouse
HDMI cable
Computer monitor
iPad stylus
Wireless keyboard
The Right Backpack
As a nursing student, you need a backpack that allows you to carry all your books and supplies without wrecking your back. A large laptop backpack with a built-in USB charging port for your phone or tablet is a great option. There are even ones that also feature a built-in lunchbox. What's better than a bag that holds your books, charges your phone, and keeps snacks close at hand?
Consider a rolling backpack if you are worried about schlepping lots of heavy books across campus every day. A good wheeled travel bag will take the strain off your back while allowing you to keep everything you need handy.
Whatever style you prefer, make sure it's built to last and has the right features. Choosing the right backpack is crucial when it comes to taking care of your body and ensuring your bag won't fall apart after a few months of use.
Source: misfire_studio/Shutterstock.com
Water Bottle
Staying hydrated is essential. While you might be tempted to drink a few too many cups of coffee or energy drinks to get through your day, drinking water is a way better option. And you'll be more likely to down enough H20 when you have a high-quality water bottle to keep it cool and close at hand all day long.
The Bottom Line
As a nursing student, having the right supplies is vital. And getting in the habit of being adequately prepared now will serve you well in your career. Before you head to nursing school, make sure you have all of the essentials listed above. If you know someone who is a nurse, ask them for their recommendations, too. Surviving nursing school isn't easy, but with the right supplies and preparation, you'll be well on your way to becoming a healthcare hero!
A guest post by Adela Ellis RN, BSN Ambassador | Infinity Scrubs
Thanks