I was recently gifted a review set of The Nurse Gift Set to review. It consists of approximately 12 X 15 inch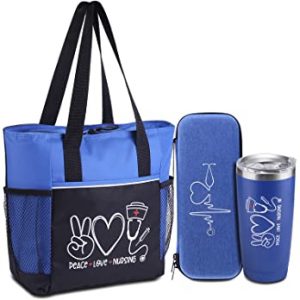 zippered insulated canvas bag, a 20 oz stainless-steel thermal insulated cup with safe sipping lid, and a  10 X 4 X 2 inch zippered hard stethoscope holder which can house other nursing supplies as well.
The bag features a canvas side pocket and two mesh pockets to hold a water bottle. You can push the insulated cup into the mesh holder, but it won't go all the way down. Better to either put the cup inside the insulated bag, or carry it and place in your car cup holder.
The bag features durable straps that work well as either carry handles or shoulder strap. I prefer to carry the bag as the straps are a little short for making it comfortable to carry on my shoulder.
The entire kit works well for any nurse to pack a lunch, and personal nursing supplies for work along with a solid stainless steel cup for staying hydrated. It would also work well for visiting home health or hospice nurses to pack a lunch or snacks and carry essentials for visits to homes where you only want a few supplies. Again the cup works well to keep coffee hot, or cold liquids cold in your care so you can stay hydrated and refill at your office or local food stops.
The Nurse Gift Set would make a nice holiday gift or graduation gift for the nurses in your life. You might even consider one for yourself. The entire kit comes packages in a reusable translucent zipper bag with flamingos on it. Perfect for storing a few extra necessities such as dry socks, a sweatshirt and warm gloves in your car for those days when the weather wants to dump rain or snow all over you traveling to work or from patient to patient. Nurses can never have too many bags!